Listen to episode 476 of the Inspirational Living podcast: C25K Motivation for Running Couch to 5K | Runners High. Including motivational and uplifting quotes on running.
Podcast Transcript: Welcome to the Inspirational Living podcast. The topic of today's podcast is a little different. While I occasionally mention the importance of exercise and having a fit body, most of the time I talk about life lessons and success habits unrelated to fitness.
But not today. Today we are going to talk about running, because around 8 weeks ago I decided that I was going to take up running for the first time. While I played a lot of sports in my youth, I always hated running. But now at the age of 52, not having done any regular, aerobic exercise in many years, I decided to start running, AND that I was going to enjoy it. Not only that, I set a goal for myself of running a 10.5K mini-marathon by the end of the year.
I downloaded the free C25K app by Zen Labs, which thousands of other people have used successfully to take up running, and now am on week 7 of the program, looking forward to graduating soon to their free 10K training app.
The biggest challenge in getting this far is that I've had to radically change my old mindset of hating running. And (I'm happy to say) I've succeeded in that. Now, I actually do enjoy running. I genuinely look forward to it. I've even begun to get a "runner's high" that lasts throughout the day. Indeed I'm starting to feel around 20 years younger — and all without the pain, struggle, and difficulties that cause so many beginning runners to quit.
If you would like to join me on this journey, and learn how you can turn running into a joyful habit rather than a grind, visit LivingHour.org/patron. For as little as $3 a month, you can gain access to my advice on running with a joyful, positive mindset. You can also share with me your own experience with the Couch to 5K app, get my personal feedback and support, and other benefits exclusively offered to our podcast patrons. Once again, that's LivingHour.org/patron. Thank you.
Now, on to today's reading, which is a collection of inspirational quotes on the subject of running. For attribution, check out the full transcript which I have included with this podcast.
"Running! If there's any activity happier, more exhilarating, more nourishing to the imagination, I can't think of what it might be. In running the mind flees with the body, the mysterious efflorescence of language seems to pulse in the brain, in rhythm with [your] feet and the swinging of [your] arms." — Joyce Carol Oates
"For me, running is both exercise and a metaphor. Running day after day, piling up the races, bit by bit I raise the bar, and by clearing each level I elevate myself." — Haruki Murakami
"Never limit where running can take you. I mean that geographically, spiritually, and, of course, physically." — Bart Yasso
"Our running shoes have magic in them. The power to transform a bad day into a good day; frustration into speed; self-doubt into confidence; chocolate cake into muscle." — Mina Samuels
"I don't run to add days to my life, I run to add life to my days." — Ronald Rook
"I run because if I didn't, I'd be sluggish and glum and spend too much time on the couch. I run to breathe the fresh air. I run to explore. I run to escape the ordinary. I run…to savor the trip along the way. Life becomes a little more vibrant, a little more intense. I like that." — Dean Karnazes
"Every morning in Africa, a gazelle wakes up. It knows it must outrun the fastest lion or it will be killed. Every morning in Africa, a lion wakes up. It knows it must run faster than the slowest gazelle, or it will starve. It doesn't matter whether you're the lion or a gazelle – when the sun comes up, you'd better be running." — Christopher McDougall
"There is something magical about running; after a certain distance, it transcends the body. Then a bit further, it transcends the mind. A bit further yet, and what you have before you, laid bare, is the soul." — Kristin Armstrong
"The Hopis consider running a form of prayer; they offer every step as a sacrifice to a loved one, and in return ask the Great Spirit to match their strength with some of its own." — Christopher McDougall
"[My mantra while running] is to breathe in strength and breathe out weakness." – Amy Hastings Cragg
"The more I run, the more I love my body. Not because it's perfect, far from it, but because with every mile it is proving to me that I am capable of more than I ever thought possible." — Unknown
"People sometimes sneer at those who run every day, claiming they'll go to any length to live longer. But I don't think that's the reason most people run. Most runners run not because they want to live longer, but because they want to live life to the fullest. If you're going to while away the years, it's far better to live them with clear goals and fully alive then in a fog, and I believe running helps you to do that." — Haruki Murakami
"[When running] your body will argue that there is no justifiable reason to continue. Your only recourse is to call on your spirit, which fortunately functions independently of logic." — Tim Noakes
"Every run is a work of art, a drawing on each day's canvas. Some runs are shouts and some runs are whispers. Some runs are eulogies and others celebrations." — Dagny Scott Barrio
"I run because long after my footprints fade away, maybe I will have inspired a few to reject the easy path, hit the trails, put one foot in front of the other, and come to the same conclusion I did: I run because it always takes me where I want to go." — Dean Karnazes
"Your greatest runs are rarely measured by racing success. [Rather] they are moments in time when the running allows you to see how wonderful your life is." — Kara Goucher
"I often hear someone say I'm not a real runner. We are all runners, some just run faster than others. I never met a fake runner." — Bart Yasso
"We run to undo the damage we've done to body and spirit. We run to find some part of ourselves yet undiscovered." — John Bingham
"An obsession with running is really an obsession with the potential for more and more life." —George Sheehan
 "Now, if you are going to win any battle you have to do one thing. You have to make the mind run the body. Never let the body tell the mind what to do. The body will always give up. It is always tired in the morning, noon, and night. But the body is never tired if the mind is not tired." — George S. Patton
"No matter how slow you go you are still lapping everyone on the couch." — Unknown
"Running allows me to set my mind free. Nothing seems impossible. Nothing unattainable." — Kara Goucher
"One run can change your day, many runs can change your life."  — Unknown
"Run often. Run long. But never outrun your joy of running." — Julie Isphording
Couch to 5K Tips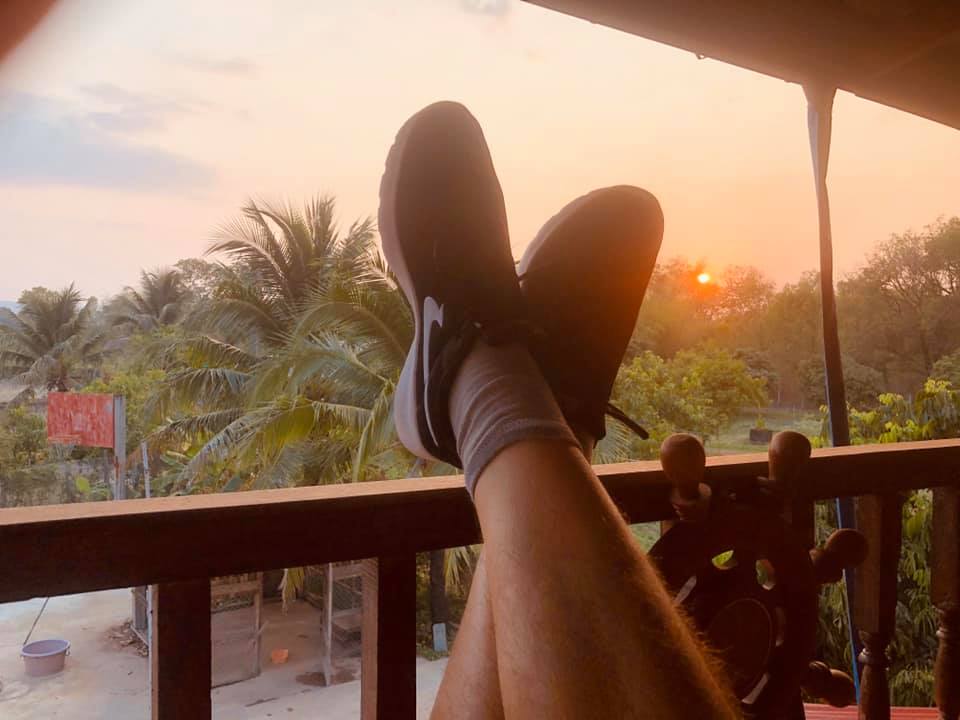 Wondering what type of Couch to 5K tips and advice you'll get if you decide to become a patron? See below an excerpt from one of my Couch to 5K posts, regarding how to prepare to use the C25K app. Also, keep in mind that when you become $3 a month patron, you also get access to over 100 additional Inspirational Living podcasts no longer publicly available, full transcripts to every episode, and the Our Sunday Talks series that I produce exclusively for patrons.
How to Prepare for Couch to 5k Running Program
The C25K (Couch to 5k) running app aims to take you from the couch to running 5K in only 8 weeks. However, if you are over overweight and/or haven't done any regular aerobic exercise in many years, I do not recommend starting the program right away. This is especially true if you are someone who has always hated running and/or is over 50 years old.
You need to change your mindset about running, and that means doing everything you can to turn it into a very DOABLE and enjoyable experience. Here are my suggestions for getting started on the right foot:
TWO WEEK PREPARATION
1) Buy yourself a new pair of running shoes or sneakers. A small financial investment helps to establish a new habit and serves as symbol of your commitment. You don't need to spend lots of money on fancy running shoes, simply ones that feel very comfortable on your feet and seem well made. I was able to purchase my shoes for around $20 on sale and they have served me well.
2) Go for a 30-60 minute walk every day (14 days). During your walk occasionally jog for 20-30 yards, however long and fast you feel comfortable with. Just enough to raise your heart rate and breathing some, but never so far or fast that you get that tight, breathless feeling in your throat and/or feel like you need to bend over with hands resting on your thighs. I never want you to feel like that! The joyful running habit I've developed aims to avoid that feeling. 
It's important that you don't miss a day during these first 14 days.  Choose a start time that you'll most likely be able to commit to each day. For me, it has been 5 am. The Couch to 5K program is a 3 day a week program, but it is much easier to establish a new habit by working on it every day at the beginning.  Once you complete the first 14 days of preparation, you'll find it much easier follow the 3 day a week program and will begin to look forward to your next run during your time-off, recovery days.
3) Begin compiling your running playlist of songs that are especially suited for motivating you while running, or listen to my playlist once you officially start the Couch to 5K program:  The Couch to 5K Playlist for Awesome People.
Read more tips and get full patron benefits by visiting our Patreon page at: https://www.patreon.com/inspirationalpodcasts